Temstem app combats hearing voices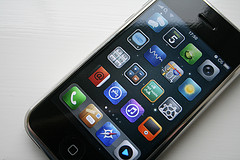 An app that helps paracusia sufferers deal with the voices they hear has won the Rotterdam Design Prize 2013.
I did not know this, but apparently there are many people who hear voices in their daily lives, either voices that aren't there or background voices that get amplified. Sometimes these voices are benign and just part of the noises around you and sometimes they are negative or threatening. Parnassia Groep claims their free iPhone app Temstem (the name is a pun meaning 'tame voice') can help you learn how to control these voices.
The jury report says about the app: "The jury believes that Temstem is a brilliant example of the impact that design can have on real problems. The joint research by the health professionals of the Parnassia Groep and the Reframing Studio designers has resulted in a genuine tool that can have a major impact on the lives of its users."
The audience award was given to a display for railway station platforms that tells travellers where the first and second class carriages are, which carriages are crowded and so on. Dutch Rail had a similar system before but only in app form. The new system has displays suspended over the trains.
The first five prizes of the audience award were:
Dutch Rail display system
Temstem
Fairphone (ethically sourced smartphone)
Pal-V (flying car)
Mine Kafon (anti-personnel mine detonator)
(Link: Bright; photo by William Hook, some rights reserved)