North Korean hostesses cover traditional Dutch song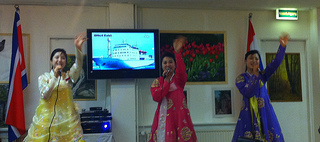 Two years ago, a North Korean restaurant (now closed) in the West of Amsterdam had caused quite the commotion having been accused of spreading propaganda and all that jazz. But at least there was after dinner singing.
Now in the East part of town restaurant Haedanghwa features North Korean food with traditional after dinner songs sung by North Korean girls in traditional garb. The fun part is, they sing their rendition of the Dutch standard 'Aan de Amsterdamse Grachten' (roughly, At the Canals of Amsterdam) that they apparently worked very hard not only to sing, but to understand. They practiced for a few weeks and now you can enjoy the video.
(Link: www.vice.com, Photo of Pyongyang restaurant by Comicbase, some rights reserved)
1 Comment »
That sounds very good!!! It seems that the girls were in Holland to learn the language!!!

Comment by Ina Driece — February 20, 2014 @ 10:58 am