North Korean restaurant causes political stir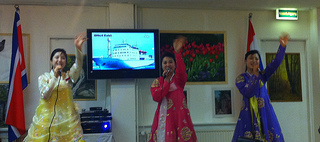 Amsterdam is apparently the first European city to have a North Korean restaurant, which opened in January at the edge of the city in Osdorp. It has a cultural centre attached to it as well, although many people are sure it's a propaganda centre. In fact, it's been almost impossible to talk about restaurant Pyongyang, named after the North Korean capital, without it turning to politics.
Owner Remco van Daal keeps reminding the press and his patrons that his restaurant and the cultural centre is not politically motivated, but it's a hard sell because in Asia, Pyongyang restaurants are associated with money laundering. If we could have Russian restaurants a few decades ago in the West, we should be able to have North Korean ones as well. And which major European city doesn't have an Italian restaurant with ties to the mafia? Van Daal could be telling the truth, he could also be lying, but encouraging his restaurant is optional.
Two friends of mine went to Pyongyang for dinner, one for his birthday and to indulge in his fascination of dictators (no pics of Kim Jong Il there since his portrait may not be filmed), the other went with friends who are actually going to visit North Korea this spring. They both said it was expensive and not particularly special food-wise, but the song and dance provided by real North Korean women is worth experiencing at least once.
In this video you'll see the clumsy decor and lighting with North Korean art on the walls, the food and the traditional song and dance. And if my friends or other patrons are horrible people for funding an oppressive regime, so are people who consume Nestlé products or whatever else that is on the current bad corporations hit list. And consuming questionable products has always been optional.
(Link: www.jeroenmirck.nl, Photo of Pyongyang restaurant by Comicbase, some rights reserved.)