Leo Vroman, artist, poet, scientist, dies at age 98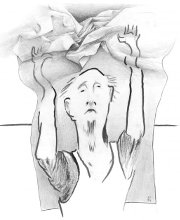 Two weeks ago Dutch-American poet, artist and scientist Leo Vroman died at his home in Fort Worth, Texas, nu.nl reports.
Although Vroman emigrated to the US after WWII, he wrote poetry in Dutch until the very end. Somebody posted the following poem called Einde ('The End') to his blog after his death, a poem he wrote on 10 February (translation by me):
It probably looks less,
this lovingly gathered
pile of chips from my thoughts,
like me than like a mountain.
What then will this raging* figure
of me consist of
and where did this already late
first spark come from?
Holly Moors reviews Vroman's book Leo Vroman Tekenaar which explores the many forms his art took. As a biologist Vroman studied the way blood works (the Vroman Effect was named after him, as Elsevier points out in its eulogy).
Nu.nl writes that in 2010 Vroman wrote his own 'in memoriam' for the magazine Tirade: "Will we miss him? Not easily. His books will still be lurking everywhere and his Effect is lasting." The news site points out that in the Netherlands Vroman was best known for his poem 'Vrede' ('Peace'). He won numerous literary awards (and one science award), and was named honorary citizen of Gouda in 1990.
*) Or furious, burning, blazing: the Dutch word 'laaiende' is often used to denote anger, but when talking about a fire it means 'blazing'.
(Illustration: Leo Vroman, self-portrait)