Stapel.tv builds video walls with a vintage touch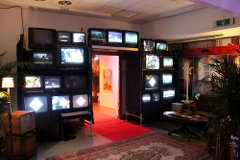 Every video wall that the three entrepreneurs of Stapel.tv create is unique, financial news site Z24 writes.
Instead of clicking together countless similar LED screens the three friends from The Hague use old-fashioned CRT TVs, each screen a unique set.
Dave Seth Paul told Z24: "People hire us because they tire of the same-old state-of-the-art LED screens. Old TVs have a certain charm."
The company uses old sets they get from friends or that they buy off Marktplaats for ten euro a piece. So far they've collected 60 TVs which enables them to build a vintage video wall of 6 by 2.5 metres. The units are driven by tiny Raspberry Pi computers.
For the Leiden International Film Festival a gate of TV sets was built by Stapel.tv (the name means Stack TV), each set displaying on of the movies shown at the festival. In front of the screens a small living had been constructed.
(Foto: Stapel.tv)