Dutch artists cover current pop hits, good or bad?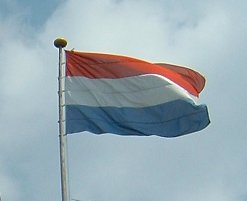 Radio station 100% NL broadcasts Dutch music sung in Dutch or from Dutch artists and has recently decided to expand its reach by commissioning Dutch-language versions of currently English-language pop hits. The project is called 'Let's Go Dutch' and was launched last week. First up is Charly Lusky with 'Ik heb iets' (roughly, 'I've got something', 'there's something happening', you get the idea), a cover of Pharrell Williams' Happy, see the first video below.
Covering current English-language pop hits to have more to play on the air is fine, however the comments on NU.nl are mostly negative to put it mildly. I have nothing against the voice of Charly Lusky in this music video, but then I'd rather hear Pharrell Williams. As a non native Dutch speaker the lyrics of the Dutch version sound insincere and artificial, something a Dutch artist would never have written on their own. It's like there's no added value in the Dutch version.
Many people feel the translation sounds like it's for dummies, level-wise. The background singers still sing 'happy', a word the Dutch have been using for a few years now instead of the Dutch word 'blij' or 'gelukkig', which means they left in some English after all.
As a Dutch blog puts it in English, is it a hit or is it shit? Give it a whirl and tell us what you think.
Charly Lusky – Ik heb iets
The original Pharrell Williams – Happy
(Links: www.nu.nl, nlpop.blog.nl, Photo by Quistnix, licensed under Creative Commons Attribution 1.0)