Nina Hoekman, draughts champion despite cancer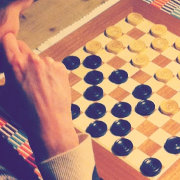 Last week Nina Hoekman became a record-equalling 11-time Dutch draughts champion.
The former number two of the world had to have all her moves physically performed by an official as 17 cancer tumors in her brain had made it difficult for her to move. The cancer was discovered in 2011 and the then-44-year-old Hoekman (born Nina Jankovskaja in Ukraine) was told she had six months to live. She survived those odds and in 2012 she won the rapid draughts tournament in Lille, France, in between radiation therapy sessions.
Another tumor was discovered last September and Hoekman was told she had two weeks to live. Doctors suggested she stop her treatment. Hoekman told Volkskrant yesterday: "Even if chemotherapy is only one percent effective, if it gives me a spark of hope, then who should deny me that therapy? I got the feeling that the doctors were pushing me to the exit. I had to accept death, that is what they told me. But I am a champion, I have competed for the world title several times, I never give up."
At one point during the championship in Zoutelande, Zeeland, Hoekman got nauseous and dizzy, which cost her a point. In the final round against real estate agent Jacqueline Schouten she needed to score a point more than the number two of the competition, Vitalia Doumesh. The latter drew and Schouten lost, earning Hoekman an eleventh Dutch title. With that title she equalled the record of Karen van Lith.
(Photo by Florian Schroiff, some rights reserved)