Metropole Orchestra re-records Esquivel
Juan Garcia Esquivel was a Mexican composer of pop music who was one of the pioneers of a genre called Space Age Bachelor Pad Music.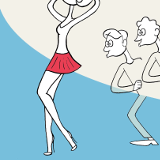 Last year Zone 5300 called the genre "an orchestral cross of lounge pop and exotica". In 2013 the Hilversum-based Metropole Orchestra, the largest professional pop and jazz orchestra in the world, released an album of re-recorded Esquivel tunes, Perfect Vision. Berlin-based composer Stefan Behrisch was asked to reconstruct the sheet music as the originals had been lost.
One Internet store, ReR MegaCorp, sells and describes the record as follows: "Remember stereo? Not the naturalistic, tasteful stereo but the extreme, weird, psychedelic stereo that has been all but forgotten now? Here it is. Apart from being stunning in its own right, this record makes some wake-up statements about recording and what it can do – and about how far we have moved away from that sensibility."
Marco Kalnenek's appraisal is not as excited, but then he isn't trying to sell the album: "[A] loving tribute to an almost forgotten music director. The arrangements are meticulous and the recording and production are perfect—modern without diminishing the original sound."
The video by Keller Film shown here is a perfect accompaniment for the Esquivel tune Mini Skirt. The sensibility of the animation is American and 1950s-like, but the theme is modern and Dutch. Boy meets girl, except that the girl is a high earning, Macbook wielding professional and the boy one of the army of under-earning delivery men that sprung up after the market for mail was liberalized in 2009.
See also: Wikipedia on Juan Garcia Esquivel.
(Illustration: screen capture of the video, cropped)