The Anne Frank tree in Amsterdam is branching out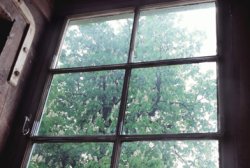 Back in 2010 the world famous Anne Frank chestnut tree had blown over and broke. In an effort to save something of this tree mentioned in Anne Frank's diary, branches were take in order to try and grow saplings.
Today, one of the saplings is big enough to be planted, and its prestigious destination will be the Capitol in Washington, DC, the seat of the United States Congress. This is not the first time the United States has planted saplings from the Anne Frank tree; in fact 11 have already been planted throughout the country.
The sapling will be planted on the Capitol's west front lawn on April 30.
(Link: www.miamiherald.com, Photo: annefranktree.com)
1 Comment »
[…] Back in 2010Â the world famous Anne Frank chestnut tree had blown over and broke. In an effort to save something of this tree mentioned in Anne Frank's diary, branches were take in order to try and grow saplings: here. […]

Pingback by Reprieve for Anne Frank tree in Amsterdam | Dear Kitty. Some blog — April 13, 2014 @ 3:04 pm