Photo mag New Dawn features young photographers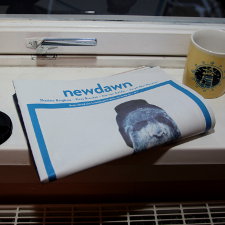 As I swung by the (relatively) new PhotoQ photo book store on Ferdinand Bolstraat in Amsterdam last week, the owner handed me a free tabloid paper called New Dawn.
New Dawn focuses exclusively on photography and puts photos and their makers front and centre. It contains announcements of exhibitions, portfolios (often of young photographers), interviews and reviews of photo books. It appears once every two months and is distributed via a large number of venues such as art schools, museums, coffee houses.
If you're not in the Netherlands you can still follow the New Dawn blog which contains much of the same content (albeit not in tabloid format). You could also contact the publishers and ask them about a paid subscription.
To me magazines about photography are much more interesting than the unfortunately far more common magazines about photo equipment, so I definitely hope New Dawn keeps it up.
The current issue contains photos by Sharieta Berghuis (cover), Sarah Mei Herman (below), Koos Breukel, Iris van Gelder, Paul van Vugt and others.
No Comments »
No comments yet.