Dig in with Nijmegen and uncover something Roman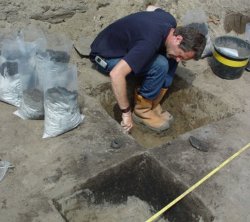 From 14 April to 18 May, the city of Nijmegen, Gelderland, the oldest city in the country and synonymous with Roman ruins, is inviting its citizens to come and dig up some finds with archaeologists. You'll need a ticket to join in the merriment, 10 euro for 2 hours of excavation. All kinds of related events (in Dutch) for children and adults alike are also being organised.
The excavation is to take place on a site belonging to the Honig food corporation, where remains of a 2000 year-old temple have been found. Archaeologist Kees Brok says people have expressed interest in joining in, so that's why they've turned it into a fun group activity.
I doubt anyone can keep what they find though, but it's a good way to get the job done fast and learn something.
(Link: www.nieuws.nl, Photo: BOOR, Rotterdam)
No Comments »
No comments yet.