Guy fined for showing his junk at junk food chain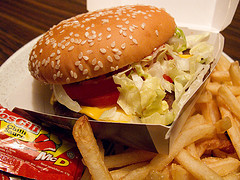 A 25-year-old guy was dared by his friends to show his cock and balls to the girls of the local rowing club while eating at the same junk food chain. The act is not only vulgar and asocial, misogynistic even, but it's forcing children and others to see something they didn't ask for, which is why it's illegal.
Poor bastard, an off duty cop was dining there and hauled him down to the police station, where he was eventually slapped with a 350 euro fine for exhibitionism.
(www.waarmaarraar.nl, Photo of burger by huppypie, some rights reserved)
1 Comment »
An off-duty cop at a burger place is called an 'agent in burger' in Dutch, no kidding!

Comment by Branko Collin — May 12, 2014 @ 12:21 am