Netherlands has second best beer-to-income ratio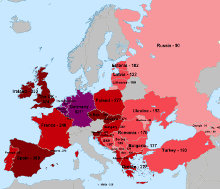 Reddit user Adilu made this fun map of Europe which shows how many beers the legal monthly minimum wage buys you in Europe.
It turns out the well-paying beer-loving countries are the Germanic ones—no surprises there. The minimum wage of a Belgian buys you 1028 pints of beer, whereas the Dutch can purchase at least 761 pints with their monthly salary. Germany comes in third with only 521 beers.
Adilu based their pint prices on a crowd-sourced database aptly called pintprice.com, according to PolicyMic, which has a thing or two to say about purchasing power and minimum wage if you're interested.
(Illustration: Reddit user Adilu)
No Comments »
No comments yet.