Student wins appeal for porno film internship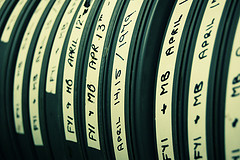 First it was 'yes', then it was 'no', now as of yesterday it's back on: a female student who fought to do a media and entertainment internship with Dutch porn star Kim Holland finally got her wish.
When INHolland University said 'no' it came up with 'it doesn't suit our values', for which Kim Holland and the student decided to fight the university. Back in 2011 INHolland University had managed to generate negative publicity all on its own, as they were involved in a scandal in 2011 regarding invalid diplomas (in Dutch).
The internship was tweaked to make it acceptable for the university, and now it's enjoying free, more positive publicity this time.
(Link: www.nieuws.nl, Photo of film cans by tallfoot, some rights reserved)
No Comments »
No comments yet.