Roy Donders banned by Barneveld bible bashers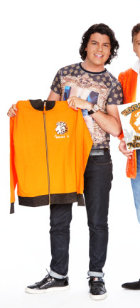 The king of tracksuits, media phenomenon and self-proclaimed stylist Roy Donders, has gotten himself in a spot of bother over his last name.
Donders is involved in a loyalty scheme for the Jumbo supermarket chain that lets football fans save up for a garish orange tracksuit (dubbed cheering suit) as part of the commercial frenzy leading up to this year's World Cup and has lent his name to the slogan "We geven ze op hun donders" ('let's give 'em hell', except that 'donder' means 'thunder').
This, according to Telegraaf, angered shoppers in the bible belt for an as yet unexplained reason. Citizens of Barneveld asked the local supermarket to remove all advertising for the scheme. The store manager gave into their demands.
Ma Donders was furious, Omroep Brabant wrote: "I don't know what kind of faith these people have, but Donders is our last name. You cannot change that." Meanwhile the issue has become moot because of a run on the hideous tracksuits—Jumbo claim to have run out. A spokesperson told Omroep Brabant that sales felt like "Christmas in May".
See also: Tracksuit king Roy Donders quits his house parties
(Photo of Donders holding his track suit's jacket: Jumbo.)