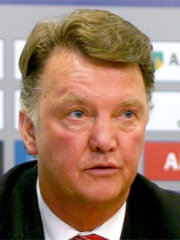 The football season has yet to start, but new Manchester United head coach Louis van Gaal is already giving the club's owners plenty to be happy about.
The six children of late American entrepreneur Malcolm Glazer are about to make a load of money by selling 5% of their shares in British football club Manchester United, Yahoo! writes. The share price rose steeply after the announcements of both Louis van Gaal as head coach and Adidas as main sponsor, going from 14 USD to 19.31 USD last Wednesday, raising the value of the club to to approximately 3.2 billion USD.
The Glazer family will make an estimated 155 million USD on the sale and will hold on to the majority of shares. In order to underline their intentions, the shares they are selling have reduced voting rights.
Earlier in his career Van Gaal won major awards with Ajax, Barcelona and Bayern München. In his previous job as coach of the Dutch national team, he managed to reach third place at this summer's World Cup, the more impressive considering that most his players came from lesser leagues such as the Dutch Eredivisie.
Manchester United's prospectus warns buyers that the club's worth largely depends on successes in the European campaign, according to The Independent.
Photo by Paul Blank, some rights reserved.