Shoot first, ask questions later or wait and see?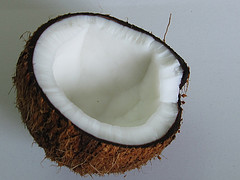 Here's a lovely, fuzzy article about cultural differences in The Guardian, prompted by an organisational theory thought up by Dutchman Fons Trompenaar, which divides the world into peaches and coconuts. Peaches are what I call the 'shoot first, ask questions later' people who are friendly to strangers and will withdraw if they have to over time, while coconuts are the 'wait-and-see' types who will seem distant at first and may eventually warm up to you over time.
The important point is that both sides are valid and have the power to offend the other, deliberately or not. Recently a Dutch acquaintance said if someone was offended by something he said, it was always the other person's fault for being offended and that people get offended too quickly. Much like the clumsy KLM tweet about Mexico, where KLM tried to say they were sorry but actually suggested that other people just don't get Dutch humour, this would mean that the entire Twittersphere would have to bow to a culture they probably don't even know and that the person at KLM is not responsible for their mistake.
If Trompenaar's theory of both sides having equal value is true, then someone who causes offense cannot always blame it on other people. Conversely, someone who decides to be offended by everything they hear is of course equally at fault for blaming others. When I was learning Russian at university in Québec, I found out by reading Russian people's reactions socially that calling myself 'Natasha' (my real name) was considered too friendly too fast because 'Natasha' is a friendly diminutive of 'Natalia' and you don't let people call you that unless they know you. I then started introducing myself as 'Natalia'. I could have said, 'sod this, it's my culture and my country and my name is Natasha', but instead I told them they could call me 'Natasha' because that was my real name. Some stuck to Natalia, some switched to Natasha, but either way there was some cultural balance without outright blaming the other for not knowing any better.
A Dutch friend of mine visited my house once, which has carpeting that I can't change for wooden floors, and I told him to please take off his shoes. He said, 'what's this, a mosque?', and I told him that I didn't want dirt from his shoes on my carpet. I explained that where I come from, a good part of the year it's full of snow and mud outside, and walking into people's homes with shoes on — unless you bring a pair of indoor shoes — is a no-no. Although it was my house, it was his cultural rules and I ended up vacuuming for 20 minutes after he visited me. He refused to accept that he had to change the way he did things for me because it wasn't the Dutch way. All my friends take off their shoes at my place, but they do it because it's my house and see compromise as a good thing rather than claim that their way is the only right way.
(Link: www.theguardian.com, Photo of Coconut by SingChan, some rights reserved)
2 Comments »
While I was living there I had the same issue with my ex's friends. They wouldn't take off their shoes (FYI I am also Canadian). I would annoy the crap out of me. I get the whole "adjust" to the land, but this was my house. We had just put in new carpeting and I was pregnant so I wanted to keep the carpet as clean as possible for when my child started crawling. None of them seemed to get that and would one in particular would argue about taking off his shoes. I gave him the choice of taking off his shoes or leaving. He took them off. THAT being said, my ex's parents came to visit (they are american) and his mother refused to take off her shoes… and by this time my daughter was born and starting to crawl. I was livid.

Comment by Sibbella — July 11, 2014 @ 4:16 am

the story about KLM blaming others for being offended and not understanding their humour, sounds familiar – as does the story about the guy refusing to take off his shoes when entering someone else's house. I'm a foreigner living in NL, too. Of course not all Dutch people are like this, but it isn't at all unusual to meet people with the attitude of "I do it THIS way, and if you don't like it then go somewhere else" – particularly in any service industry here(!)

Comment by Sarah — July 13, 2014 @ 10:32 pm