Groningen features fun art on a roundabout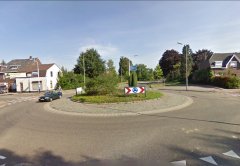 Berlin artist Niklas Roy, who calls himself 'an inventor of useless things', was asked by the city of Groningen to design something for the Tschumi pavilion (designed by Swiss Bernard Tschumi in 1990) that sits on a roundabout.
The 'Pneumatic Sponge Ball Accelerator' is the name of the installation, which combines a gumball machine with foam-like balls, a lottery machine and a particle accelerator powered by a vacuum cleaner.
Niklas says his work was inspired by CERN laboratory's work with particle accelerators, which he says you can't see at all. "This is a particle accelerator for ordinary people," he explains. Considering Tschumi is from the French speaking part of Switzerland, I wonder if Niklas made that connection on purpose.
(Links: thecreatorsproject.vice.com, www.tschumipaviljoen.org)