French tourists ignore fines and sleep in their cars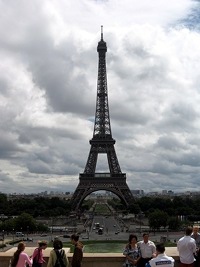 Maybe French tourists are onto something: why pay a lot of money for an overpriced, cramped Amsterdam hotel room when you can sleep in your car and get a parking fine you won't have to pay in the end? Apparently, the fines the French are being issued are not being collected anyways, so pourquoi pas.
According to De Telegraaf some 20,000 parking fines were issued to French car owners over the last two years, but few fines were actually collected by Dutch authorities. Even blogs are telling the French to ignore those pesky fines, although the tax office claims they'll have to pay eventually. I know many French friends who have come to Amsterdam, been fined for parking in the wrong place not being able to decipher what they had to do and never paid their fines.
According to local telly station AT5 French tourists are said to sleep in their cars, which upsets the locals. Maybe the tax office should collect those fines for real because when it comes to bureaucracy the French know how to snub the system more than you, you clueless Dutch tax office you.
(Link: www.at5.nl)
No Comments »
No comments yet.