The NoPhone, the no-tech smartphone for addicts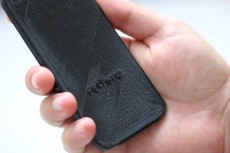 There are people addicted to using their smartphones, and maybe you're one of them. Fear not, you can buy or ask someone to buy you the NoPhone, so you can finally have conversations with humans instead of checking your phone the whole time.
Dutch creatives Ben Langeveld and Ingmar Larsen together with a couple of New Yorkers thought up the 3D printed NoPhone, a black rectangular bit of plastic that feels like a smartphone in your hand, but isn't one.
According to them, a person touches a smartphone about 150 times a day, significantly reducing a person's real-life interaction. The NoPhone is like the pen a smoker puts in their mouth to ease cravings.
I bet people would buy the NoPhone for someone else as a huge hint that watching them stare at their phone is annoying. In fact, Langeveld and Larsen made the NoPhone with that specific type of addict in mind.
(Link: www.adformatie.nl, Photo: NoPhone)