Two Belgian tanks ram each other on Dutch motorway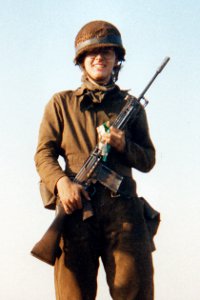 Dear stand-up comedians: Christmas has come early this year.
Like two cars swerving to avoid a duck crossing the road in slow motion, two Belgian Piranha-type tanks rammed each other near Valkenswaard, Limburg on the busy N69 (giggle) motorway, attempting to avoid a tractor. Both tanks are leaking fuel, but fortunately no one was hurt. I'm sure some egos are bruised though, as they should be.
Let me see how many cheap shots I can take before reading other people's comments:
'Sergeant! There's a big green tractor that keeps getting closer! BAM!
'Whew! It's a good thing this is just a military exercise'.
'Crew cruise control on these things really suck.'
After the crash:
'Right, I'm off for a slash, toodles'.
(Link: www.nu.nl)