Police hands out criminal records at music festival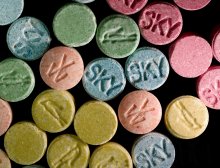 Dutch prosecutors recently acquired the possibility of by-passing courts for minor offences if they can come to an agreement with suspects about a fine.
Placing the public prosecutor on the seat of the judge: what could possibly go wrong?
Two weeks ago at the Lowlands festival, the prosecutor wasn't too eager to explain to suspects what exactly the consequences of their choices were, Vice reports. The 119 visitors out of 50,000 who had been charged with possession of recreational substances were not always told that agreeing to the so-called 'strafbeschikking' ('declaration of punishment') would get them a criminal record, nor what the consequences of a criminal record would be.
Vice asked lawyers Juriaan de Vries and Christian Flokstra what festival goers should do if a public prosecutor offers them an agreement. "Always ask for a lawyer!"
And of course that is a problem if your options are to pay a small fine on the spot (now with free criminal record!) or to go to jail for a night while a lawyers are being fetched from their weekend fishing trips and miss out on the festival. It seems the prosecutor knew exactly what they were doing. In the Netherlands a criminal record can prevent you from getting a job, effectively shutting off certain career paths.
The public prosecutor's office responded (PDF) by saying they didn't understand what all the hubbub was about—in their view the suspects retained plenty of rights and had even had some of those rights explained to them.
(Photo: DEA)