iPads are 'means of communication', not computers or phones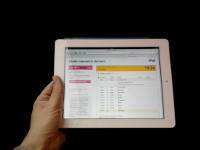 In late 2012 a Dutch court ruled that iPads were not phones and that angered broadcaster RTL Nederland because that meant they would owe back taxes to the tune of 323,687 euro on 664 iPads with Vodafone subscriptions given to their employees for Christmas.
RTL appealed the ruling at the time, and yesterday a higher court overturned the decision and ruled that not only are iPads not phones, they are also not computers: they are "means of communication." The clincher is that the law also prescribes categories of devices that are applicable to be taxed, including "phones, Internet and such communication devices."
The iPad is a fancy tin can with a string attached to it that is not primarily used to do all your work on, giving RTL a reason to pop open some champers.
(Link: webwereld.nl)
No Comments »
No comments yet.