World's first microbe zoo opens in Amsterdam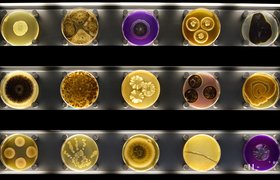 Next to Amsterdam's Artis Royal Zoo in the East of the city where you can sometimes spot the heads of giraffes moving slowly in the distance you'll find Micropia, billed as "the world's first interactive microbe zoo", opened yesterday by Queen Máxima.
And instead of looking at sizable animals like giraffes, the goal of Micropia is to display "micro-nature," says director Haig Balian, who believes microbes have been underestimated ever since Dutch scientist Antonie van Leeuwenhoek, known as 'the father of microbiology' observed these microscopic creatures in the 17th century.
"Much of the museum looks like a laboratory, complete with rows of microscopes connected to giant television screens. Visitors can look through a window at a real-life laboratory where different kinds of microbes are being reproduced in Petri dishes and test tubes."
To get you started – or off your lunch – here's an A to Z of lots of microbes.
(Link and photo: www.news24)