Simple and soothing time lapse film of Dutch cities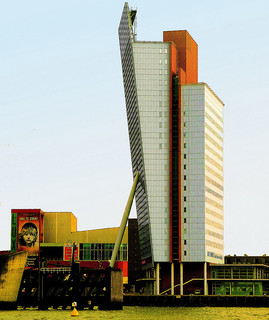 "In ,'7685 Frames of Netherlands', filmmaker Pengcheng He documents the beauty of the old cities of the Netherlands in a charming series of tilt-shift time-lapses. He shot the video in Delft, Rotterdam and Amsterdam."
Many people don't see Rotterdam as one of the old cities, mainly because few old buildings were left in the city after the WWII. Delft and Amsterdam join cities like Haarlem and Nijmegen as old cities.
Amsterdam's IJ river ferries kick it off, then the Stopera, but I'll let you play guess the city on your own because I could possibly describe the entire video location by location (yes, that is a bit scary) having lived extensively in all three cities. Sometimes, the film even has a miniatures feel to it.
(Link: laughingsquid.com, Photo of Rotterdam, KPN building by Roel Wijnants, some rights reserved)
No Comments »
No comments yet.