Banksy makes his own Vermeer in Bristol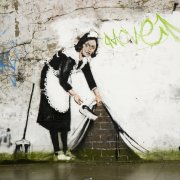 Bristol, UK now has their very own 'Girl with a Pearl Earring' revisited by Banksy and called 'Girl with the Pierced Eardrum', which has already been defaced. The earring is an alarm box.
(Link: www.independent.co.uk, Photo of Banksy's Cleaner by Dan Brady, some rights reserved)
No Comments »
No comments yet.