Jorryt van Hoof breaks Dutch poker record in Vegas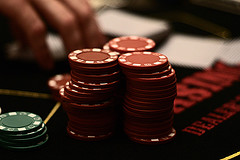 Poker player Jorryt van Hoof from Eindhoven finished third this week at the World Series of Poker in Las Vegas, beating last year's seventh place scored by Dutch trailblazer Michiel Brummelhuis. Now the highest ranked Dutchman ever in this event, Van Hoof goes home with 3,8 million USD (over 3 million euro).
Although Van Hoof prefers playing PLO (pot-limit Omaha) cash games, he still surprised many by having made it to the 'November Nine', the nine players who get to participate in the WSP. In fact, Van Hoof even started out as the chip leader.
After being eliminated Van Hoof tweeted 'Thank you all for the amazing support, I truly appreciate it! It's been one heck of a ride and a unique experience'. First place went to Sweden's Martin Jacobson and second place to Norway's Felix Stephensen.
(Links: www.ed.nl, www.pokernews.com, Photo by Jam Adams, some rights reserved)
No Comments »
No comments yet.