Utrecht's Dom Tower shot in the fog by drone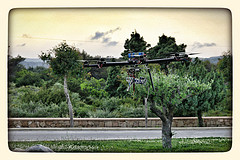 Jelte Keur, 32, from Utrecht shot a video of the Gothic Dom Tower of Utrecht surrounded by fog using a drone. Keur claims he waited 10 months for the right weather conditions to shoot this video, as he has had this thing with fog since he was a boy.
The music definitely suits the video, which I looked up (Shane Carruth, Leaves Expanded May Be Prevailing Blue Mixed With Yellow of the Sand from the 2013 film 'Upstream Color').
After you've watch this video, check out his other ones.
(Link: www.netherlands-tourism.com, Photo of Drone by Karen Axelrad, some rights reserved)
No Comments »
No comments yet.