Crane trashes roof as man proposes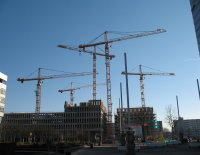 In IJsselstein, Utrecht, a man ready to propose to his girlfriend rented a crane. Unfortunately, the crane crashed down onto the neighbour's roof. The neighbour's daughter had just woken up and was out of her room when the crane came crashing through it.
While trying to lift the crane out of the way with another crane, the arm of the first crane crashed down on the roof a second time, trashing the roof in its entirety.
While the police, city and even the mayor have gone to the scene to assess the damage, the girlfriend did say 'yes' and the couple have gone off to Paris, leaving the mess behind them for now.
(Link: www.rtvutrecht.nl)