Making 'cheese' from mushroom and prawn waste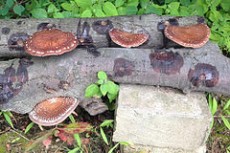 Three scientists of the Meat the Mushroom company are developing a meat replacement food product using prawn waste at their container venue in the up and coming Amsterdam North district.
They explain that prawn waste is normally processed into animal feed or spread on fields. "Ninety percent of all Dutch shrimp is peeled in Morocco. If you buy fresh prawns, you can assume that they are about two months old. They are caught in the North Sea, cooked on the boat, shipped to Morocco, peeled and placed in preservative, and shipped back to the Netherlands again. […] Some 70 percent of the weight of a shrimp is not even edible. A kilo of prawns leaves 700 grams of waste.
Working together with a shrimp processor in the small Groningen village of Leens that peels the prawns using a machine, Meat the Mushroom have come up with this basic recipe: prawn waste + grain + king oyster mushroom = 'cheese'. The result apparently looks just like the French Mont d'Or or Camembert cheese.
The product is obviously not suited for vegetarians or vegans, but it is made from discarded bits, making it a decent alternative to meat and very creative. The picture depicts shiitake mushrooms, which the scientists also grow.
(Link: munchies.vice.com, Photo of shiitake mushrooms by pjah73, some rights reserved)