Experiencing celebrities' dying moments with smells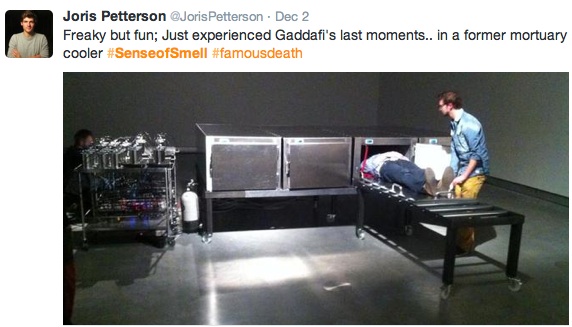 Late November's opening of the temporary exhibition 'Sense of Smell' of the Avans Hogeschool in Breda, a research project entitled 'Famous Deaths' featured a metal morgue-like box with the smells depicting the last five minutes of four famous people: Whitney Houston, Princess Diana, Muammar Gaddafi and John F. Kennedy.
"Those wanting to experience Houston's final moments are transported to a bathtub at the upmarket Beverly Hills hotel where the diva died in February 2012. To the sounds of splashing water and Houston's voice, a visitor first gets a whiff of generic cleaner, used in hotels around the world, followed by the olive oil the singer used in her tub. Then a strong chemical odour, similar to that of cocaine fills the box, grabbing its occupant by the throat, followed by the sound of rushing water and then silence."
The metal boxes were completely dark inside and rigged with pipes leading to bottles containing pressurised smells. A soundtrack is played and on queue different scents are released into the box to recreate a specific final moment.
Avans mentioned that other institutions showed interest in the installation, so who knows what dead person we may have the chance to smell in 2015.
(Links: www.bndestem.nl, www.businessinsider.com)