'Jesus and Hitler may offend, but Stalin is fine'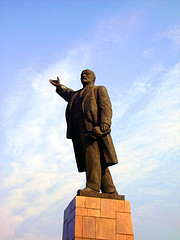 Art student Dirk Hardy of Rotterdam's Willem de Kooning academy has had two of his photographs censored from an exhibition at the town hall of Binnenmaas, South Holland. The mayor 'vetoed' a photograph of Jesus and one of Hitler, saying it could be offensive to some. However, a photograph of Stalin was no problem.
The exhibition entitled 'Clay' was a series of six images: Jesus, Hitler, Stalin, Napoleon, Tom Cruise and himself. The town suggested Hardy come with two other photographs to 'fill in the gaps'.
Someone who thinks Hitler is offensive, but has no issues with Stalin doesn't know their history at all. Although very different, Stalin is responsible for killing some 30 million people (yup, Jews, too) and Mao probably killed the most ever at around 78 million. Hitler comes in third with 17 million people killed. If you're going to be a moron and censor Hitler, you also need to remove Stalin or else you're an inconsistent, ignorant moron. And censoring Jesus is, as some Dutch friends would say, 'a bit boring'.
(Links: imgur.com, Photo of Lenin in Ukraine by covilha, some rights reserved)
No Comments »
No comments yet.