Police take wooden dick artist to court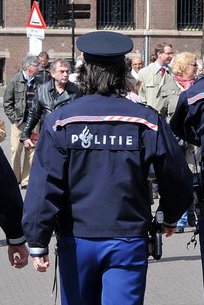 Back in 2012 artist Peter de Koning of Steenbergen, Noord Brabant made a statue to protest the way a police officer had treated his daughter: a big wooden penis. The artwork also had the name of the offending officer on it, considered at the time to be 'insulting an officer' and was confiscated.
'Dick artist' De Koning has now been accused of libel for reposting a picture of a police offer taking an outdoor wee on a public road, which is illegal. De Koning claimed this was the police officer that had given his daughter a hard time, but apparently it's not. De Koning's lawyer is having a field day with this law suit, saying it's ridiculous, as the photo was taken by somebody else and reposted by many other people. The court case is due on 29 April, so we'll keep you posted.
De Koning is already thinking up a new protest artwork, one that expresses how he feels, but that won't be confiscated.
(Link: www.omroepbrabant.nl, Photo by Facemepls, some rights reserved)
No Comments »
No comments yet.