Dutch police hold on to tall wooden penis a little longer (NSFW)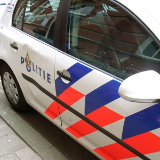 A two-metre-tall wooden penis was found to be insulting by a judge in Breda last Wednesday. Artist Peter de Koning of Steenbergen in Noord Brabant had made the statue to protest the way a police officer had treated his daughter. The officer had allegedly groped the girl from his car under the pretext of searching for marijuana late last year.
A note attached to the statue read "Protest statue, Nico van den Wijngaard, Steenbergen police". Insulting the police is illegal in the Netherlands.
The court has sentenced De Koning to a suspended fine of 1,000 euro and also declared that the statue should be returned to its maker, BN De Stem reports. The police have yet to comply with that part of the verdict, according to Algemeen Dagblad.
In the meantime Van den Wijngaard has been transferred to a different patrol territory, for the second time in two years.
(Photo by Alan Woo, some rights reserved. Video: YouTube / Omroep Brabant)
1 Comment »
[…] Noord Brabant made a statue to protest the way a police officer had treated his daughter: a big wooden penis. The artwork also had the name of the offending officer on it, considered at the time to be […]

Pingback by 24 oranges » Police take wooden dick artist to court — February 4, 2015 @ 4:01 pm