Utrecht researchers study why cats love boxes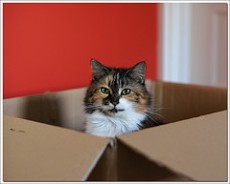 Researchers Claudia Vinke and Ruth van der Leij of the Faculty of Veterinary Medicine of Utrecht University have studied why cats like to get into boxes. It appears that hiding in a box significantly reduces the stress level of a cat, although many cats just like to play in them, as proven by the multitude of Internet videos.
Studies were carried out in an animal shelter to monitor cats' behaviour in quarantine for two weeks. Half of the cats were given a box to hide in and the other half was not. The stress level of the cats in the room with a box was significantly lower than the ones without a box. Cats with a lower stress level get used to their new environment more quickly, and a more relaxed cat also does not get sick as quickly. Boxes are good for cats.
On a related note, one of Amsterdam's cat related attractions is the 'Poezenboot' ('Cat boat'), a cat shelter on a houseboat in one of Amsterdam's main canals founded back in the late 1960s.
(Link: www.duic.nl, Photo of Cat in a box by Hehaden, some rights reserved)
No Comments »
No comments yet.