Tinder-style voting for States-provincial elections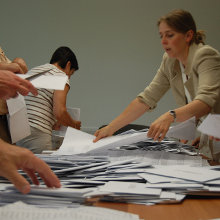 Talk show host Arjan Lubach has devised a Tinder-style voting app made for fun to help undecided voters for the upcoming States-provincial elections. The States-provincial or 'Provinciale Staten' in Dutch are the provincial parliament and legislative assembly in each of the 12 Dutch provinces.
With 'StemTinder' ('Tinder Voting') you can swipe left or right and find the political party match for you. It's not the national elections, so why not vote on looks? And there's nothing wrong with candidates trying to look trustworthy to win votes.
(Links: www.ans-online.nl, nos.nl, Photo by Photo RNW.org, some rights reserved)
No Comments »
No comments yet.