Unique clothing made with 3D scans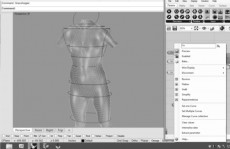 Dutch industrial designer Leonie Tenthof van Noorden, who uses 3D scanning to produce unique custom-made dresses, calls the technique she uses 'digital tailoring'. She also claims that going to a shop that will scan you and make clothes for you is probably not that far off, either.
Her Master's graduation project at the Eindhoven University of Technology 'This Fits Me' is called the way it is because the clothing is fitted specifically to someone's body using 3D scanning techniques and generative design, explained in the video which was filmed in Eindhoven during Dutch Design Week 2014.
(Link and screenshot: www.dezeen.com)
No Comments »
No comments yet.