Scaring off seagulls with drones in Haarlem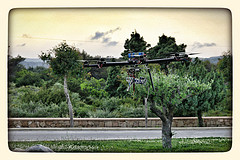 After the world found out about an owl terrorising the city of Pumerend and sending people to hospital, the city of Haarlem has decided to attack its annual seagull problem with drones, based on an American idea. Haarlem is a few kilometres from the North Sea, while Amsterdam is further away and seems more overrun by pigeons.
Forget hanging devices that make falcon noises to scare seagulls off. With a drone you can replace the camera part with the noisy device and scare the seagulls out of their nests, as long as it's not too windy for the drones. Seagulls are a protected bird type, so scaring them away is the city's best bet for now.
(Link: www.rtvnh.nl, Photo of Drone by Karen Axelrad, some rights reserved)
1 Comment »
[…] like the seagulls in Haarlem earlier this week, the owl is also a protected bird type, so they can't just shoot it. Apparently, a falconer […]

Pingback by 24 oranges » Supermarket tries to cash in on owl terror — March 6, 2015 @ 3:59 pm