American Heineken film loaded with mistakes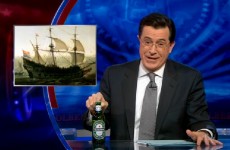 'Kidnapping Mr. Heineken', a 2015 American film about the kidnapping of Dutch beer tycoon Freddy Heineken, is not only getting bad reviews from the international and Dutch press, but is also has enough mistakes to keep everybody busy.
Maarten Treurniet directed the 2011 Dutch film 'De Heineken ontvoering' ('The Heineken Kidnapping'), staring a cast of actual Dutch people including Rutger Hauer, while Kidnapping Mr. Heineken apparently couldn't be bothered with authenticity and casted mostly British and other non-Dutch actors. While the Dutch film set in 1983 Amsterdam has many anachronistic items from the 1990s and a few references to 1984, the American film messed up big time by showing the wrong coloured beer bottles, which should be brown instead of green.
NU.nl says that, "it is a weird mistake because the makers were attentive to very small details, even the police cars are from 1983." The mistake was easy to make because Heineken has always exported its beer in green bottles, but in the Netherlands domestic bottles were brown, a 'stupid mistake'. Even Dutch crime journalist and author Peter R. de Vries whose book was used to script the film was so displeased with the final product he couldn't be arsed to go to the film's premiere in the US.
If you like your Heineken humour on the absurd side, find out why a Dutch beer brand was a good choice for celebrating February's Black History Month in the US a few years back.
(Link: www.nu.nl, Screenshot of The Colbert Report)
No Comments »
No comments yet.