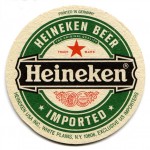 Heineken, and the oblivious people that green lit this script, have produced a "terribly racist" advert that has been pulled after America's Chance The Rapper called them out on it, on social media.
With the tagline 'lighter is better', referring to a range of light beers, a light skinned barman sees a similarly light skinned woman and slides a beer down the bar past two black patrons and one black musician. The beer slides for a long time being light and all, but the unfortunate message is loud and clear.
Chance The Rapper said it seems like companies pull stunts like this to purposely bait people to write about them, and that in this case, he had to say something. Heineken had since apologised, saying they "missed the mark".
The offending commercial is shown at 0:33:
(Link: www.nu.nl)