Dance film shot in CERN Large Hydron Collider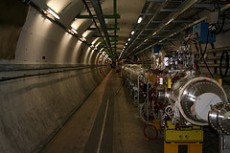 'Symmetry', a new film by Dutch film-maker and former dancer of the Nederlands Dans Theater Ruben van Leer, transforms a particle accelerator with its scientists in hard hats into a experimental dance fest. On Saturday 14 Match the show will premiere at the Cinedans Film Festival in the EYE film institute in Amsterdam for anyone who is in town.
According to Van Leer his first challenge was writing a film script for dance, which he had never done before. The main character is called Lukas played by himself, a scientist/dancer, who, by way of a soprano voice in his head sung by Claron McFadden, begins to doubt his rational thinking.
There is also a making of you can watch as well.
(Link: thecreatorsproject.vice.com, Photo of Large Hydron Collider by shotleyshort, some rights reserved)
No Comments »
No comments yet.