Anne Frank died earlier than recorded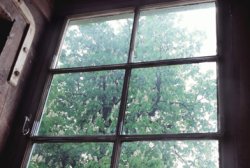 Anne Frank and her sister Margot probably died a month earlier than previously recorded at the Bergen-Belsen concentration camp. According to Erika Prins, a researcher at the Anne Frank House museum in Amsterdam, her death was placed in February instead of March. Both girls died of typhus, with most typhus deaths happening some 12 days after the first symptoms.
Anyone who knows the story of Anne Frank often has the feeling that if she had held on a bit longer, she could have been liberated, which was never really the case, but now even less so.
"The new date of her death changes little about the tragic lives of Anne and her sister Margot, who went into hiding with their family in an Amsterdam canal house but were eventually betrayed, sent to Nazi concentration camps and died in the Holocaust along with millions of other Jews."
Jews hid in many places across the country (in Dutch). You can also see Anne Frank on YouTube in a film fragment, the only time ever apparently. As well, many people think Anne Frank was Dutch, but she was German.
(Links: phys.org, www.nu.nl, Photo of famous chestnut tree: annefranktree.com)
No Comments »
No comments yet.