Rare fish spotted in South Holland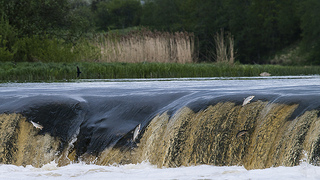 Sightings of the vimba bream (in Dutch, 'blauwneus') in the Netherlands are rare, especially really young ones. In early April some 50 volunteers started monitoring and listing fish caught in frame nets in the New Waterway near Maassluis, and the vimba bream stood out. They jump upstream like salmon do.
The vimba bream was originally a Central European species that expanded into Germany to the Rhine Valley when the Main-Danube Canal was being dug. "The first observations of the vimba bream in the Netherlands date back to 1989, when a three-year-old fish was caught in the Lower Rhine."
(Link: dearkitty1, via natuurbericht.nl, Photo of Vimba bream by zigurdzakis, some rights reserved)
No Comments »
No comments yet.