Salt water crops farmed on Texel island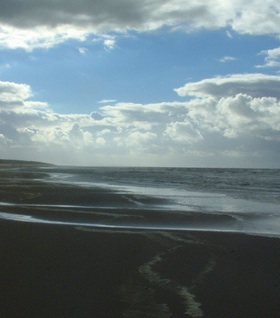 A team of farmers on the island of Texel are successfully farming salt water potatoes and other crops, as a sustainable solution for the increasing lack of viable farming land around the world.
Project 'Salty Potato Farm' was started some 10 years ago by team leader and farmer Mark van Rijsselberghe. Supported by the University of Amsterdam, the team has apparently planted 30 types of potatoes. Van Rijsselberghe says that, "anything that dies in the saline environment is abandoned, and anything that lives we try to follow up on."
Experimental crops of carrots, strawberries, onions and lettuce are also being planted. Neither genetically modified organisms (GMOs), nor laboratories have been used for growing their crops in salt water environments. However, the price of the potatoes is still too high, with one kilo selling for five euro, compared to less than a euro for the same amount of regular potatoes, but one thing at a time.
(Link phys.org, Photo of Texel island by Searocket, some rights reserved)
No Comments »
No comments yet.