Vanity mirror of clay and leds by Baas & Pot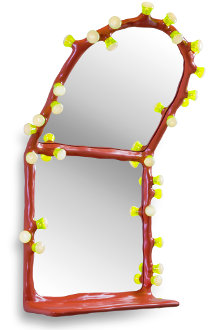 LEDS Clay is the name Maarten Baas from Den Bosch and Bertjan Pot from Rotterdam gave to a series of LED and clay based custom products they designed.
Shown here is one of two mirrors, but the series also contains a number of lamps. Design Boom says all the works were hand-molded. The on-line magazine talked to the designers at the Milan Design Week 2015.
Den Herder Production House, formerly known as Baas & Den Herder, was responsible for the production of these 'luminaries'. It's unclear to me if you can actually buy these objects, but if you give Den Herder a ring, I am sure they can enlighten you.
(Photo: dhph.com)
No Comments »
No comments yet.