World record for Dutch hydrogen fuel cell car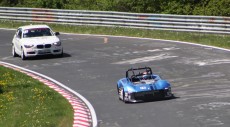 Dutch racing driver Jan Lammers recently had the honours of racing the Delft University of Technology's Forze VI, a student built hydrogen powered racing car on the world-famous Nürburgring racetrack in Germany. Lammers completed the 21 kilometre-long endeavour under 11 minutes, a world first for a hydrogen fuel cell powered car.
Although the Forze VI reached top speeds of 170 km/h around the track, the 50 students who have made this car a reality believe it can do so much more. Besides getting the car to reach the theoritically possible speed of 220 km/h, the Formula Zero Team Delft plan to race against combustion engine powered cars in various races, with the ultimate goal being the 24 hour Le Mans.
(Links: www.bright.nl, www.formulazero.tudelft.nl)