Swiping the Tinder app with meat fits the bill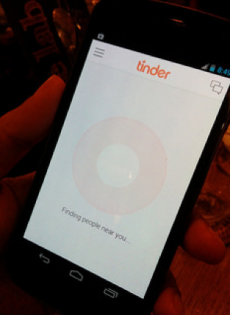 A Dutch art installation entitled 'Tender' created by four students at Leiden University features a piece of meat (pork?) that swipes profiles approvingly in a fake version of the popular dating app Tinder. The artwork is set to debut at the Habitat art exhibition in Amsterdam this weekend.
In casual Dutch, 'checking people out' is called 'vleeskeuren', which literally means 'to check out the meat'. The creators have an actual piece of meat doing that for them in the video: by swiping right, the 'user' is approving all the profiles it swipes, going for a match, but maybe all 'porky' will get is a flash in the pan. The four students are probably guys because their app is searching for women, so they'll get bikinis and sunglasses but miss out on guys petting tigers and holding fish — take my word for it.
Just last month Tinder reunited a brother and sister both searching for a 'sex date'.
(Link: www.tech365, Photo of Tinder app by Wayan Vota, some rights reserved)