First ever Dutch flamenco singer graduates in Spain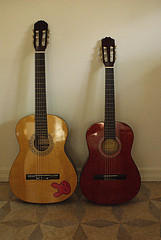 This week Amsterdam's Luna Zegers, 40, has graduated as the first ever non Spanish flamenco singer from the ESMUC conservatory in Barcelona, a top Catalonian music institution.
A few years ago Luna move to Spain, where people call her Luna instead of her real first name Lonneke, after graduating from the Conservatorium van Amsterdam as a jazz singer. At the ESMUC only one student a year is admitted, but in the year Zegers applied, the institution let two singers in, and she was one of them.
Zegers had to work hard as a Dutchwoman entering a foreign space as well as study half of her courses in Spanish and the other in Catalan. She says she found what she looking for in the expression of flamenco after losing her father, mother and sister in a very short time span. "Jazz is very polished – that started to bother me. I was looking for something rawer. Flamenco is a mix of lamentation about things like death and unbridled joy. For the level-headed Dutch this is quite an intense form of expression."
Here's Luna Zeger with 'El Amor Dolido' from the ballet 'El Amor Brujo' by Manuel de Falla:
(Links: www.parool.nl, nos.nl, Photo of Guitars by tarale, some rights reserved)