The art of noise reduction at Schiphol Airport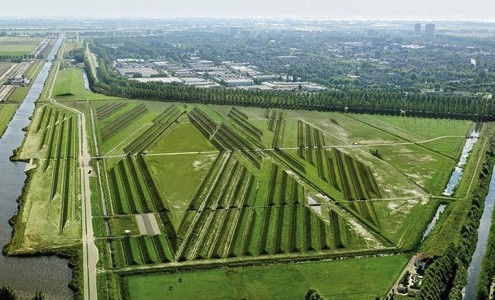 Visual artist Paul de Kort was asked a few years ago to design the Buitenschot land art park, a huge 33-hectare park with a series of ribbed hedges and ditches surrounded by trees that form a noise-reduction green space right off Schiphol Airport's biggest runway, the Polderbaan. Sadly, you can't see the park from the air and that would partially explain why I've never noticed it before.
The airplane noise experienced by nearby residents is mostly low frequency ground noise that radiates backwards in an oblique fashion from planes during take-off, and De Kort's aesthetic yet functional park of furrows was inspired by 17th century German acoustic techniques as well as local farming techniques.
Completed in October 2013 Buitenschot features small parks, bike paths and foot paths. De Kort also incorporated art pieces that drew on the history of the project, like the 'Listening Ear,' a parabolic dish on a small pyramid one can stand in that amplifies ambient sound, echoing the park's noise reduction purpose and a diamond-shaped lake where visitors can create ripple patterns on the water surface while standing on a bridge equipped with a wave generating device.
(Links: www.pauldekort.nl, www.smithsonianmag.com, www.schiphol.com)