Birds and bees found in bike saddle bags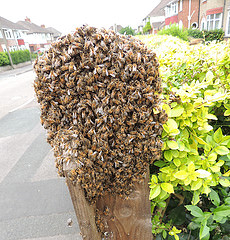 This week there was a woman in Bloemendaal, North Holland who went grocery shopping with her bike and was about to load her saddle bags only to discover that an entire swarm of bees had moved in. The queen bee apparently decided to park it there and her entire buzzing entourage followed suit. They called in a beekeeper and he got them to move to a box.
Recently there was a woman in Oirschot, Noord-Brabant who noticed twigs in her saddle bags and kept forgetting to remove them every time she got on her bike until one day she decided to clear them out and noticed a bird's nest with five robin eggs in it. She left her bike alone until last week when five baby robins emerged from the eggs.
(Link: www.omroepbrabant.nl, Photo of swarming bees by quisnovus, some rights reserved)